Washington High School
Alumni Scholarship Foundation
In Memory
Jeanette Johnson (Zaeske) - Class Of 1950 VIEW PROFILE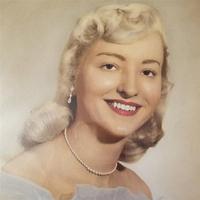 Jeanette Marilyn Zaeske passed away on January 1, 2020 at St. Lukes Hospital in Cedar Rapids, Iowa surrounded by her family. Jeanette "Jan" was born in Milwaukee, WI on May 22, 1931 to Theodore V. and Ervilla E. (Dieterich) Johnson.
Upon graduation, Jeanette explored a modeling and singing career. After attending Patricia Stevens School of Modeling and cutting a 'record', she decided that lifestyle was not for her. She considered fashion designing and created a portfolio but did not pursue it as her work as a Legal Secretary at a Milwaukee law firm absorbed her daily life. She enjoyed city night life until she met the love of her life, a Marine named Karl Zaeske. At 26, after a brief courtship, they were married in Myrtle Beach, SC near Karl's Marine base. In 2014 they celebrated their 57th anniversary on the day of his passing, which was the most difficult day of her life, as she lost her soulmate.
Jeanette and Karl lived in the Milwaukee area for several years before moving to California, Jeanette's paradise, then off to Cedar Rapids and Marion, Iowa for many more years while Karl worked at Rockwell.
Retirement in 1997 moved Jeanette & Karl to Sarasota, FL for 17 years where they shared their passion for the ocean and sunshine. At Karl's passing in 2014, Jeanette returned to Iowa to live near her daughters. She lived in Keystone Cedars and Terrace Glen Village, making many friends and receiving excellent care.
Jeanette is survived by her three children with Karl: Ross Zaeske (Melissa) of Florida, Dana Nietert (Mark), Cheryl Van Donslear (David) of Iowa; sister, Virginia Secor; two brothers-in-law: Frederick Zaeske (Jane), Alan Zaeske (DeAnne); sister-in-law, Carol Rowe Zaeske; 8 grandchildren, 3 step-grandchildren, 2 great grandchildren and several amazing nieces and nephews scattered across the country.
She was preceded in death by her parents, her husband Karl, brother, Theodore V. Johnson Jr., her father and mother-in-law, Ernst F.W. & Dorothy (Koch) Zaeske, her brother-in-law Kurt Zaeske, & sister-in-law Dorothy Zaeske.
https://www.cedarmemorial.com/Obituary/2020/Jan/Jeanette-M-Zaeske/
Click here to see Jeanette's last Profile entry.