Washington High School
Alumni Scholarship Foundation
2018 Hall of Fame Induction
Washington High School recognizes exceptional alumni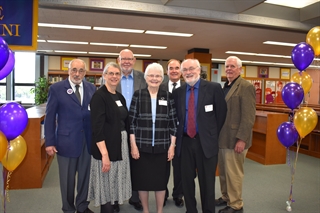 The Washington High School Alumni Association proudly recognized seven men and women who are being added to the school's Hall of Fame. All were selected for exemplary careers and service to the community.
In a ceremony at Washington High School's library, Interim Superintendent Keith Posley, Principal Angelena Terry, former Principal Jerome Brandl, and President Steven Brown of the WHS Alumni Scholarship Foundation congratulated and thanked the Hall of Fame members for their inspiring careers and their impact on the city of Milwaukee. Washington High School students read biographies to introduce honorees and culinary arts students prepared and served hot appetizers.
Honorees received framed mementos and their photo and biography will hang in Washington's corridor dedicated to the Hall of Fame.
Congratulations to the new Hall of Fame Members!
Ruth Kesselman Silver, WHS 1949 (Posthumous)
Ruth lost her sight and hearing in early adulthood, earned her bachelor's and master's degrees, and taught students with disabilities for several decades. She founded the Center for Deaf-Blind Persons in Milwaukee in 1985, which continues to provide services today.
Richard Allen Anderson, WHS 1950
Richard earned his doctorate in chemistry, worked as a chemist at Kimberly-Clark, and served as a Senior Research Fellow at the company's Georgia facility. After retirement, he published poetry and children's books and is currently working on a family memoir.
Doris Bogen Preucil, WHS 1950
Doris was an honors graduate of the Eastman School of Music, played violin with the National Symphony, taught music, and pioneered the Suzuki method in the United States. She founded the Preucil School of Music in Iowa City, a nonprofit school that has received international recognition.
Russell M. (Russ) Darrow, Jr., WHS 1955
Russ Darrow is well known for his successful automobile businesses. He has served the auto industry on a number of industry boards and has served several youth organizations including the Milwaukee Boys and Girls Clubs and Junior Achievement, and has chaired many fundraising campaigns for nonprofits.
Richard L. (Dick) Weiss, WHS 1959
Dick began working in computer programming, employed by Schlitz Brewing Company and First Wisconsin National Bank. With a partner, he founded Computer People Unlimited. He retired to serve community organizations and established the Weiss Family Foundation to support Milwaukee children and families.
Daniel Stepner, WHS 1964
Daniel pursued violin studies at Northwestern University and earned an advanced degree from Yale. He became a teacher, composer, soloist, concertmaster, conductor, and recording artist featured on more than 60 recordings. He was a professor at Brandeis University for 29 years and a Preceptor in Music at Harvard University for 20 years.
Christopher J. (Chris) Dede, WHS 1965
Chris is currently the Wirth Professor in Learning Technologies and former chair of the Learning and Teaching department at the Harvard Graduate School of Education. He is an author, a speaker, and a consultant on technology use in education. He has assisted several school districts, including Milwaukee Public Schools.