Washington High School
Alumni Scholarship Foundation
In Memory
Marlyn Deitch (Minkin) - Class Of 1961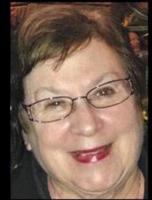 Marlyn Beth Minkin

On October 11, 2019 we said goodbye to Marlyn Beth Deitch Minkin. She is survived by daughters, Traci and Jodi and her grandchildren Ben, Max, Emily and Eli. She was a devoted mother and grandmother who loved unconditionally. She dedicated her professional life to advocating and supporting those in the deaf and deaf-blind communities. She touched the lives of countless people and was a gift to anyone who had the good fortune to know her.

Our hearts are heavy and we will miss her dearly. Her struggle with Alzheimer's has ended and she is now in peace.

In loving memory, we will be celebrating her amazing life on November 3, 2019 from 1:00 pm - 4:00 pm at The Heathman Hotel in Kirkland, Washington. A short program will commence at 1:30 pm, followed by an opportunity to share memories.

Please consider making a donation in her honor to ADWAS, HSDC or the Alzheimer's Association.
Published on October 20, 2019
https://obituaries.themoreheadnews.com/obituary/marlyn-minkin-1080250265