Washington High School
Alumni Scholarship Foundation
In Memory
Rosemarie E Kopp (Schieble) - Class Of 1961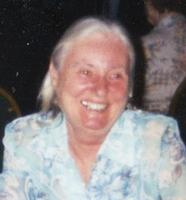 Rosemarie Schieble
West Bend, Wisconsin
1943 - 2019 (Age 76)
West Bend - Rosemarie E. "Rosie" Schieble, 76, of West Bend, passed away on Sunday, December 29, 2019, at Lutheran Home in Wauwatosa under Seasons Hospice care.

Rosie was born on February 13, 1943, in Milwaukee, the daughter of the late William and Martha (nee Claus) Kopp. On June 10, 1967, she was united in marriage to Walter Schieble.

Rosie is survived by her husband, Walter "Bud"; a son, Christopher (Shelly) Schieble; two grandchildren, Michael and Maddie Schieble; a brother-in-law and sister-in-law, Jim Burkett and Elizabeth Burkett; and nephews and nieces, Jimmy, Douglas, David, and Kathy; cousins, Fred, Darlene, and Gerald; and friends.

Rosie was a camp director for Children's Outing Association from June 1970 to October of 1991. Then she worked part time for United Way of Ozaukee and Washington County as planning and allocations coordinator. She was also commissioner of Big Cedar Lake Protection and Rehabilitation District.

On Monday, December 23, 2019, she went for respite care on to give me a five day break. On Monday they called me and said she took a turn for the worse. I went and visited her on Monday. She recognized me and smiled. That was the last time she was responsive. Rosie had told me when we were doing our wills that she did not want a funeral. She did not want to be viewed. Instead of flowers or a memorial, Rosie would want you to plant some flowers in Spring. That way you can remember the beauty of Rosie as those flowers bloom. Rosie loved her flower gardens. Every morning she would spend hours outside viewing her flower gardens.
https://www.legacy.com/obituaries/name/rosemarie-schieble-obituary?pid=194877322