Washington High School
Alumni Scholarship Foundation
In Memory
Noreen Korman (Schoenemann) - Class Of 1955 VIEW PROFILE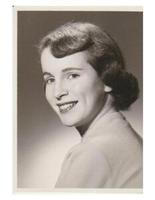 Noreen Schoenemann (Née Korman)
Died Peacefully April 12, 2020, at 82 years old. She was preceded in death by her beloved parents Albert and Anne (Weitzman) Korman. Proud mother of Susan Thompson, Lynn (David Wilson) Schoenemann, Cyndy (Jon) Wolfenbarger. Loving grandmother of Laurel Thompson. Also survived by brother Marc (Melanie) Korman, niece Beth, nephew Scott and other relatives and friends.
Noreen was born August 9, 1937 in Milwaukee, Wisconsin. She attended Washington High School where she was in French Club, was an Advisement Monitor and Secretary of the Student Council. After graduating in 1955 she attended University of Wisconsin at Madison but decided to head West to San Francisco long before graduating to follow a love interest at the time.
While in San Francisco in the 1960s, she became a legal secretary for a law firm. She had quite a social life, and enjoyed going to comedy shows with comedians like Mort Sahl and to concerts with famous musicians like Louis Armstrong. No matter where else she lived during her life, shetruly relished San Francisco and those glory days. As a beautiful and charming young lady, she caught the eye of a handsome engineer and married William Schoenemann in 1964. They had three daughters together, Susan, Lynn and Cyndy and settled down in Saratoga, CA. After her divorce in 1977 she moved back to Milwaukee in 1978 to be closer to her family. She enrolled all 3 daughters at Hillel Academy and saw to it that they all were Bat Mitzvah'd. She was a hands on, full-time parent for a long while before re-entering the workforce as a receptionist at the "Jewish Chronicle," the American Legion and then US Bank. At the Bank she made a dear lifelong friend, coincidentally named Noreen.
Aside from taking an active roll in her children's upbringings and schooling, some of her favorite things included bowling, supporting the Green Bay Packers, and listening to music whether live or recorded (particularly classical, opera and jazz). She passed on her love of music to all three of her daughters.
She successfully battled breast cancer on multiple occasions and had a grim prognosis on one such occasion in 2007. She was given 3-6 months to live. But her will to live enabled her to get to know her only Granddaughter, see her daughters find happiness and to see the Packers win a Super Bowl.
A Special Thank You! To the staff at Willowcrest Care Center who cared for her for more than a decade and the staff of St. Croix Hospice.
https://suminskifuneralhome.com/obituaries/noreen-schoenemann.131310
Click here to see Noreen's last Profile entry.