Washington High School
Alumni Scholarship Foundation
In Memory
Alice Kearby (Krebs) - Class Of 1953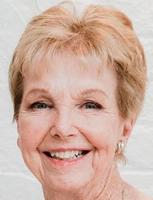 Alice M. Krebs (Nee Kearby)

Naples, FL - Alice M. Krebs (Nee Kearby), a longtime community leader and volunteer in Wauwatosa, Wis., died April 19 in Naples, Fla., at age 85.

Krebs had a distinguished career of community service, most notably as director of volunteers at Froedtert Hospital in Wauwatosa and as the first female president of the city's Rotary Club.

But her list of community volunteer programs is much longer; in fact, when she was named Wauwatosa Distinguished Citizen for 1999, she was nominated by four organizations in which she had held leadership positions: the Neighborhood Association Council, the Rotary Club, the Wauwatosa Historical Society and the Wauwatosa Women's Club.

The award capped a lifetime of service, recognizing her energy and unselfish civic-mindedness that had made Wauwatosa a better place to live and work, and helped her recruit, train and inspire hundreds of others.

She was born Alice Kearby on Sept. 16, 1934 in Milwaukee, Wis., to Harry and Ernestine (Blatz) Kearby. Alice was raised in Milwaukee and LaPorte, Ind., and was a 1953 graduate of Washington High School in Milwaukee, where she was the class salutatorian and a member of the National Honor Society and Quill and Scroll scholastic journalism honor society.

Krebs majored in journalism at the University of Wisconsin-Madison, and graduated with a bachelor of science degree in 1957. She was a member of Theta Sigma Phi, Alpha Gamma Delta, the Mortar Board honorary society, and she was voted outstanding student by the UW Alumni Association.

She met Martin J. Krebs of West Allis, Wis., at the University of Wisconsin, and they married in May 1958. They moved to the Milwaukee area, and he became president and third-generation owner of Sells Printing Co. They had three children: Laura, David and Katherine, and both Marty and Alice participated in and supported their children's youth and school activities.

Marty Krebs is also an accomplished jazz trumpet player, and he sang in an award-winning barbershop quartet, and Alice Krebs happily attended many of his performances during their 61-year marriage.

Alice Krebs' career included stints as a reporter at the Madison, Wis., Capital Times; public relations director for the UW Memorial Union; public relations director for Girl Scouts of Milwaukee, specialist at the UW-Milwaukee Office of Continuing Education, and owner-manager of The Gallery, a seasonal bookstore and art gallery in Ellison Bay, Wis.

She was named director of volunteers at Froedtert in 1979, where she formed the Froedtert Auxiliary organization, leading more than 200 volunteers and managing the hospital's Gift Shop. She retired after 13 years in 1992, citing a desire to play a greater part in the lives of her five grandchildren.

Krebs had decades of volunteer experience, with organizations too numerous to mention. A partial list includes the League of Women Voters, the YWCA, the Wauwatosa Neighborhood Association Council, Tosa Tomorrow and the Community Character Committee. She was one of the driving forces behind the Wauwatosa Historical Society when it opened the Nineteenth Century Schoolhouse in May 1995, which is now a popular field trip site.

At First Congregational Church in Wauwatosa, Krebs served as the chairperson for the Board of Benevolences, become involved with Mayfair Interfaith and served as the Driver Coordinator for the Mobile Meals Ministry from 1992¬-1998.

Krebs was always reluctant to accept recognition for herself, but quick to support any organization that needed help. Even after Alice and Marty retired, she volunteered with organizations in Door County, Wis., including the board of directors of the Midsummer's Music Festival.

When she was named Wauwatosa's Distinguished Citizen, a community leader noted: "If there is anyone who is a personification of civic pride and duty, it's Alice Krebs."

Another wrote: "Alice Krebs is a rare and remarkable individual who has made a positive difference to Wauwatosa, with no thought of glory for herself. From the youth to the elderly, from preservation to innovation, and from basic needs to enrichment programs, Alice's volunteer activities have directly touched all segments of Wauwatosa's population."

She is survived by her husband Martin; her sister, Margaret Iverson; daughter Laura (Don) Loepp; son David (Elizabeth); daughter Katherine; sister-in-law Rachel Paull; grandchildren Ruth Anne (Jonathan Maruri), Rachel, Emily (Brian Rietveld), Matthew and Michael.

Because of the COVID-19 pandemic, funeral services will be private and the family is planning a memorial service later this year.

Memorial gifts can be made to the Arbor Pointe Foundation, 1000 Arbor Lake Dr., Naples, FL 34110-8087; or the Milwaukee Symphony Orchestra, 1101 North Market Street, Suite 100, Milwaukee, WI 53202.

https://www.legacy.com/obituaries/jsonline/obituary.aspx?n=alice-m-krebs-kearby&pid=196047041&fhid=6126