Washington High School
Alumni Scholarship Foundation
In Memory
Ralph E Houseman - Class Of 1933 VIEW PROFILE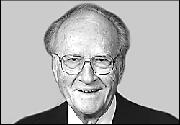 Houseman, Ralph Edward, Attorney Was born to Eternal Life on February 13, 2012, surrounded by his loving children. Ralph is reunited with his precious wife Jeanne, his adored parents, Richard and Hilda and older brother, Oliver. He is deeply mourned by his beloved children Mary (partner Janis Shogren), son Ralph, Kathy Houseman-Rostad (husband Richard), treasured granddaughter Alana Day Rostad, special loving family Mary Jane Eichman and Lee Adrian, law partners and staff at Houseman and Feind (especially Robert Feind and Carolyn Picciolo), Pastor Tim Perkins , extended family and friends that enriched Ralph's life. Ralph was born to this life on July 29, 1916, in La Porte, Indiana. His earliest memories were of horse drawn carriages, Model T Fords and silent movies. During the height of the Great Depression, the family settled in Milwaukee, WI. Ralph graduated from Washington High School in 1933. He pursued his passion for journalism by enrolling in the College of Journalism at Marquette University then decided on a career in law. Ralph was an accomplished public speaker and a member of the Marquette intercollegiate debate team. He was involved in politics and, prior to the attack on Pearl Harbor, an active member of the American First Committee. In 1939, at the age of 22, he graduated from Marquette's School of Law and began the practice of law in the then rural hamlet of Grafton, WI. When war broke out, Ralph answered the call to service and joined the United States Navy. In the navy, he trained at Columbia University and Harvard Business School. Ralph served with honor as a Second Lieutenant on board the USS Bogue CVE9, an aircraft carrier that engaged in anti-submarine and convoy duty. He served in the North Atlantic and the Pacific; then joined the Occupation Forces in Japan. Ralph was discharged when the war ended and was recalled to active duty during the Korean War. In 1948, Ralph married the love of his life, his wife of nearly 62 years, Jeanne Roxanna Mc Mahan. They lived in Thiensville, WI and became devoted parents to three children. Ralph practiced law in Grafton for over 70 years and worked well into his 90th year. He served with distinction as village attorney for Thiensville and Grafton, attorney for the Grafton School District, on the Board of Directors of the former Deaconess, Good Samaritan and Sinai Samaritan Hospitals, the Board of Directors for Grafton State Bank and the League of WI Municipalities, president of the Ozaukee County Bar Association and church elder at Bethel Bethany United Church of Christ. He was a proud World War II veteran and member of Rose Harms American Legion Post #355. In addition to his many gifts and accomplishments, Ralph possessed a remarkably humble nature and a quiet, gentle, dignified presence. He was kind and giving; performing countless acts of charity and compassion in his long life. Ralph cultivated a deep Faith and lived his life in an authentic Christian manner. He was witty and intelligent; conversant about current events (especially politics) and the long history which he had lived. As he aged, Ralph showed an amazing strength of character and persistent determination. He was a living inspiration to his family as well as a wise sage and mentor to his law partners. A celebration of Ralph's life will take place at Lumen Christi Catholic Church, 138 Buntrock Avenue, Thiensville, on Saturday, February 18. Visitation will be at 10:00 AM with Mass at 12 noon, and a luncheon to follow. Private interment will be at Resurrection Cemetery, Mequon on Monday. Contributions to Lumen Christi School Endowment Fund in both Ralph and Jeanne's memory are greatly appreciated. He is now at peace in the arms of his loving Creator.
Published in Milwaukee Journal Sentinel on February 17, 2012
Click here to see Ralph E's last Profile entry.