Washington High School
100th Anniversary
WHS Hall of Fame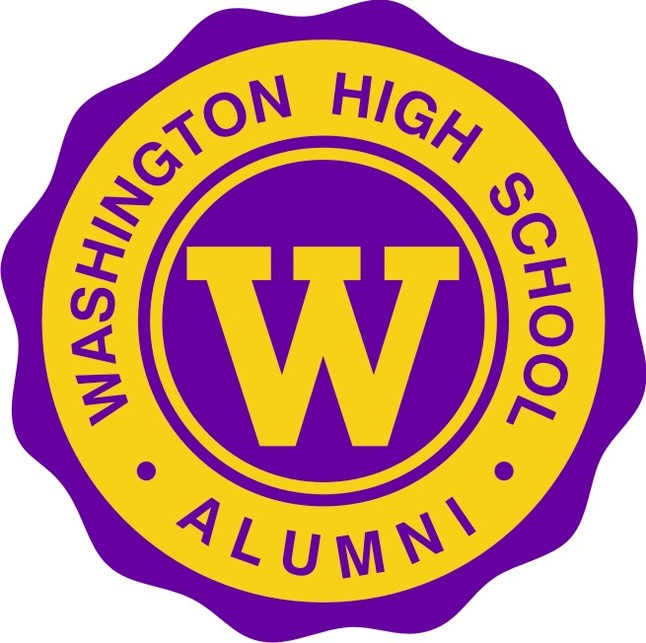 Washington High School Hall of Fame
Nominations Now Open
The Washington High School "Hall of Fame" was established to recognize alumni of Washington High School for exceptional work and lifetime achievement that best exemplifies the values and teachings of WHS.
The objective of the Hall of Fame is to present models of inspiration and integrity to the WHS student body and to instill pride in Washington and in alumni achievements.
In addition to being a WHS student, the nominee must have exhibited high ethical and moral standards, have demonstrated a high level of achievement in life such as (but not limited to) excellence in a chosen profession or exceptional acts of service. This might be an accrued lifetime of service, a contribution to humanity, or a single act of heroism or inspiration.
Nominations for the next Hall of Fame class in 2017 are now being accepted. A completed WHS Hall of Fame Official Nomination Form must be received by Friday, February 24, 2017. The selection process will take place between February 25 to June 1, 2017. The induction ceremony will take place at a cefemony in October, 2017.
Current Members of the WHS Alumni Hall of Fame
(d. is for deceased)

Schomer Lichtner '23 - Artist – Work shown in numerous museums & in Franklin Delano Roosevelt's White House. -d.
Louise Edna Goeden '25 - WHS English teacher, author, Major in Women's Army Corps WWII -d.
Edward Harris Heth '26 - Writer of short stories, novels & screenplays; 1936 O'Henry Award winner. -d.
Howard O. Johnson '26 - Chief Johnson - MPD - 12th, Chief -d.
Norman N. Gill '28 - Director of Legislative Reference Bureau -d.
Robert W. Hansen '29 - Wisconsin State Supreme Court Judge - d.
Dr. Harry J. Blumenfeld '31 - Dentist - 5th person since 1908 to earn Greater Milwaukee Dentist Associates Service Award -d.
Major Arthur L. Post '35 - WWII Pilot-Army Air Corps, Distinguished Service Cross & Distinguished Flying Cross -d.
Glen Barbaras '37- Supervisor on The Manhattan Project & holds several patents both at the University of Chicago & as Research Manager at DuPont Experimental Station.
Pat Harder '40 - NFL Player & first in history to score 100 points in three consecutive seasons. -d.
Abner J. Mikva '43 - White House Counsel under President Clinton & recipient of the 2014 Presidential Medal of Freedom. -d.
Lee Sherman Dreyfus - '44 - Governor of Wisconsin 1979-1983; trademark red vest. -d.
Newton N. Minow '44 - Annenberg Professor of Communication
Arthur Thrall '44 - Artist & teacher – Numerous awards with work in many collections; work is represented in Who's Who in America. -d.
Jerome Silberman (Gene Wilder) '51 - actor/author -d.
Herb Kohl '52 - U.S. Senator from Wisconsin - 1988-2012
Allan "Bud" Selig '52 - Commissioner of Baseball - 1998-2015
Dr. Richard Anderson '53 - (President Waukesha stockticker CTC) -d.
Thomas Buntrock '54 - Chief of Mequon Police Department; died in the act of heroism -d.
Martin (Marty) F. Stein '55 – Philanthropist & founder of Stein Drugs in 1961 and Stein Optical in 1979. -d.
Dr. Lynn Taussig '60 - Renowned authority of respiratory diseases & infections & author of numerous scientific publications and books.
Alyce Gilbert '61 - First recipient of the WHS Alumni Scholarship & Production Wardrobe Supervisor & Tony Honoree on Broadway.
James Kurtz '62 - "Mr. K" was a WHS teacher & MPS Administrator -d.
Michael Feldman '66 - Host of "Whad'Ya Know?" radio program.
Gregory Lehman '68 - WHS Coach & Twice recipient Coach of the Year Wisconsin High School Coaches Association District.
Dr. John Klein '69 - Chief Statistical Director of the Statistical Center of the Center for International Blood and Marrow Transplant Research & world renowned expert in biostatistical research methods. -d.
David Seebach '69 – Magician; taught magic at UWM; won the coveted "Best of the Best" trophy at the annual Magic Get-Together.
Jeffrey Steren '69 - President of Steren Management, Inc. & the owner/operator of multiple McDonald's restaurants & involvement in many local charities.
Christopher Gardner '71 - entrepreneur, author, and philanthropist & subject of the book & film "The Pursuit of Happyness".
Michael Mayo, Sr. '74 - 7th District Supervisor & serves as a trustee on the Milwaukee County Pension Board.
Imani Bazzell '77 - Founder and Director of Sisternet.
Mark Sain '77 - Ret. Asst. Fire Chief & District #1 representative on the Milwaukee Board of School Directors.
Rev. Dr. James G. White '80 - Com. Chrmn., Milw. Cnty. Transit Co. -d.
A brief list of our current WHS Hall of Fame members are:
Schomer Lichtner – Class of 1923
Louise Edna Goeden – Class of 1925
Edward Harris Heth – Class of 1926
Howard O. Johnson – Class of 1926
Norman N. Gill – Class of 1928
Robert W. Hansen – Class of 1929
Dr. Harry J. Blumenfeld – Class of 1931
Major Arthur L. Post – Class of 1935
Glen Barbaras - Class of 1937
Marlin M. (Pat) Harder - Class of 1940
Abner J. Mikva – Class of 1943
Governor Lee Sherman Dreyfus – Class of 1944
Newton N. Minow – Class of 1944
Arthur Thrall – Class of 1944
Jerome Silberman (aka Gene Wilder) – Class of 1951
Senator Herbert Kohl – Class of 1952
Allan "Bud" Selig – Class of 1952
Dr. Richard T. Anderson – Class of 1953
Thomas Buntrock – Class of 1954
Martin (Marty) Stein – Class of 1955
Dr. Lynn M. Taussig - Class of 1960
Alyce Gilbert - Class of 1961
James (Jim) Kurtz - Class of 1962
Michael Feldman - Class of 1966
Gregory Lehman – Class of 1968
Dr. John Klein - Class of 1969
David Seebach - Class of 1969
Jeffrey M. Steren - Class of 1969
Christopher Paul Gardner - Class of 1971
Michael Mayo Sr. – Class of 1974
Imani Bazzell – Class of 1977
Mark Sain - Class of 1977
Rev. Dr. James G. White – Class of 1980