Washington High School
Alumni Scholarship Foundation
In Memory
Nancy Fields (Creighton) - Class Of 1950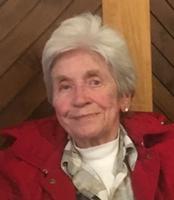 Nancy J. Creighton
August 3, 1932 - June 3, 2020
Nancy Creighton of Mequon found peace Wednesday morning, June 3, 2020 at her home in Mequon, WI. She was 87 years old. Nancy was born in Milwaukee, Wisconsin on August 3, 1932, daughter of John F. and Jeanette Fields. She grew up in Milwaukee near 50th and Keefe and graduated from Washington High School in 1950. Nancy graduated with a Bachelor of Arts degree from Wisconsin State Teachers College, Milwaukee in 1954 and started teaching lower elementary. She was married to Malcolm Creighton on September 6, 1952. She had a daughter Beth in 1958, and son Ross in 1962. She was a devoted wife and mother and continued teaching after both children. Nancy and Malcolm moved from Milwaukee to Brown Deer in 1969, enjoyed life, and raised the children. Nancy enjoyed cooking, baking, canning, sewing, knitting, crocheting, traveling, and camping. As both Nancy and Malcolm were teachers, travel throughout the United States was common and extensive every summer. She occasionally played piano. Her handwriting was impeccable. Nancy retired in 1992 after 29 years of service with MPS and shortly thereafter, moved to Mequon. She took up additional interests in retirement including genealogy, quilting, attending estate sales, singing in the Brown Deer United Methodist church choir, and creating teddy bears from out-of-style fur coats. She was a member of the Daughters of the American Revolution. Her and Malcolm also traveled throughout the U.S. judging at antique/classic car shows and visiting relatives, friends, and points of interest.
She is survived by her husband Malcolm, a resident of Mequon, son Ross of Cudahy, grandchildren Megan Olund and Adrienne Olund, of Brookfield, and Micaela Creighton in Minneapolis. She is further survived by her sister-in-law Barbara Fields and two nieces, Ann Holmi and Lynn Fields. Nancy is preceded in death by her daughter Beth E. Olund, her Brother John Fields, and her parents John and Jeanette Fields.
Visitation will be from 4 to 6 pm on Wednesday, June 17th at the Schmidt & Bartelt Funeral Home at 10280 N. Port Washington Rd, Mequon. Followed by a funeral service at 6 pm. Pastor Sue Lee will preside. Nancy will be laid to rest in Wisconsin Memorial Park Cemetery. Memorials, if desired, are suggested to the Cure Alzheimer's Fund, Katy's Kloset, or the Wisconsin Humane Society.
https://www.legacy.com/us/obituaries/jsonline/name/nancy-creighton-obituary?pid=196332756