Washington High School
Alumni Scholarship Foundation
In Memory
Lance Andre - Class Of 1963 VIEW PROFILE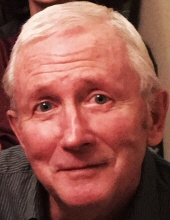 Obituary for Lance Andrae
Lance Andrae, 72, of Van Dyne, died Sunday, November 19, 2017 at Adelaide Place in Fond du Lac. He was born in Milwaukee on December 28, 1944 to Clifford and Phyllis (Bennett) Andrae. On May 2, 1970, he married Linda Duckler in Milwaukee.
Lance worked for Five Corners GMC as a car salesman until his retirement in 2011. In 2013, he and Linda moved to Van Dyne. Lance worked as a groundskeeper at the Jesuit Retreat House after retiring.
Lance had a relentless sense of humor and always enjoyed teasing the ones he loved most. He had many passions including his love of sports (especially the Packers), hiking, and boating. His greatest love was a good meal, a great beer, and an after-dinner drink with family and friends. He never saved or waited for that rainy day or special time, to get or do what he wanted. This allowed him to live a lot of life, his way, in the 72 years he was with us. Lance was so much fun to be around because he was the boy who never grew up. He will be greatly missed.
Survivors include his wife of 47 years, Linda; 3 children, Christopher, Beth (Gregg) Langenfeld and Scott (Jenny); 6 grandchildren, Gavin, Payton, Kyle, Marley, Karsyn and Colton; his sister, Janeane (Robert) Fleischman; 2 sisters-in-law, Tok Andrae and Sharon Robins; 4 nephews, Cliff Andrae, Jason (Katie) Andrae, Shayne (Candi) Fleischman and David Robins; and a niece, Tracy (Erik) Kiernan. He was preceded in death by his parents, Clifford and Phyllis; and his brother, Jeffery.
Visitation will be held from 1:00 PM – 4:00 PM on Sunday, December 10, 2017 at Uecker-Witt Funeral Home, 524 N. Park Ave. in Fond du Lac. A memorial service at the funeral home will follow at 4:00 PM. Cremation has taken place.
http://www.ueckerwitt.com/obituaries/Lance-Andrae?obId=2730005#/obituaryInfo
Click here to see Lance's last Profile entry.