Washington High School
Alumni Scholarship Foundation
In Memory
Keith Franz - Class Of 1947 VIEW PROFILE
Keith F. Franz
July 9, 1929 - June 14, 2017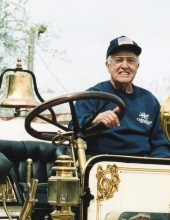 Keith F. Franz, age 87, Town of Polk, (Slinger, WI) passed away June 14, 2017. Keith was born on July 9, 1929 in Waukesha to the late Delbert "Doc" and Ruth (Schmid). He graduated from Washington High School-Milwaukee in 1947 and attended college at UWM and Marquette University. Keith owned Boehck Equipment Co. from 1982 until it closed in 2001.
Keith is survived by his wife Mary, and four children: Warren (Nancy) Franz, Luanne (Rick) Fahl, Carolyn (Gary) Wignall and Owen (Stephanie) Franz, sisters-in-law Bev Coghlan Riebe and Barb Coghlan, nieces, nephews, other relatives, and friends. He is preceded in death by his son Neil Franz, sister Carol Schneider and brothers Thomas and Gerald Coghlan.
Keith was Chief of the Cedar Lake Fire Department and Past President of the Washington County Fire Chiefs, International Fire Buff Associates, Society for the Preservation and Appreciation of Antique Fire Apparatus of America, the Milwaukee Fire Bell Club, Fire Museum Network, the Venerable Fire Collection, Boehck Equipment Company, and Associated Equipment Distributors.
Keith served as Executive Secretary of the Wisconsin State Fire Chiefs Association. He was active in the Masonic Lodge, Scottish Rite, and DeMolay. He served on the board of the Cedar Lakes Conservation Foundation, the Milwaukee Fire Historical Society, and the Wisconsin Automotive Museum. In addition, he was an active member of the Friends of the Maltese Cross and his church.
Keith's family will greet relatives and friends on Sunday, July 9, 2017 from 1- 4PM at the Eernisse Funeral Home, 1167 Washington Ave. Cedarburg, with a Fire Department walk-thru at 2PM. A Christian Science memorial service will follow. A private inurnment will be held at Prairie Home Cemetery in Waukesha at a later date.
In lieu of flowers, contributions to the Venerable Fire Collection, Inc. (4349 Hillside Road, Slinger, WI 53086) are appreciated.
Online condolences may be left at www.eernissefuneralhome.com .
Eernisse Funeral Home - Cedarburg
1167 Washington Avenue
Cedarburg, WI 53012
http://www.eernissefuneralhome.com/obituaries/Keith-F-Franz?obId=1954045#/obituaryInfo
Click here to see Keith's last Profile entry.