Washington High School
100th Anniversary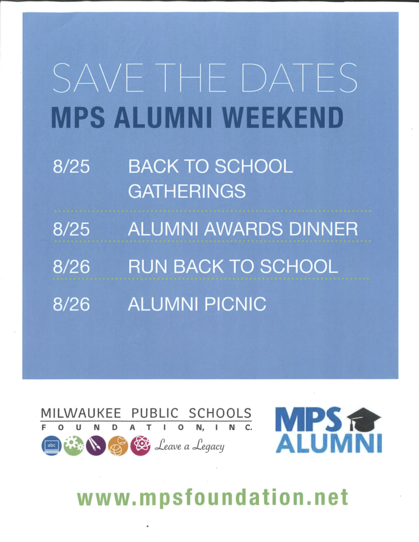 ---
Recent events:
---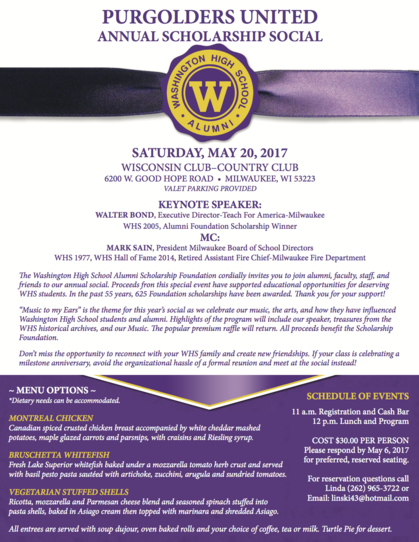 ---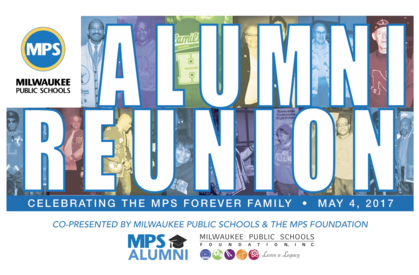 For Details on this all-MPS Alumni Reunion on May 4, 2017,
please click here
---
Take me out to the Ball Game...!
and that my friends is Mr. Dan McKinney, Biology teacher at WHS from the late 60s to the late 70s
---
New Class Reunion Information (updated 2/11/2017)
Class of 1967 (reminder)
Class of 1968 (as of 2/11/2017)
Class of 1975 (as of 2/5/2017)
Classes of 1978 through 1989
(New as of 2/6/2017)
Info on Reunion Planning: 1954
---
WHS Alumni Receive Huge Honors
Abner Mikva, WHS alumnus ('43) & Hall of Fame inductee, awarded Presidential Medal of Freedom (2014)
Newton Minow, WHS alumnus ('44) and Hall of Fame Inductee, awarded Presidential Medal of Freedom (2016)
Allan "Bud" Selig, WHS alumnus ('52) and Hall of Fame Inductee, elected into Baseball's Hall of Fame (2016)

--> more info about their awards coming soon!
---
| | |
| --- | --- |
| | WHS and Doors Open Milwaukee 2016 |
WHS has been selected to participate in the Doors Open Milwaukee event on Sunday, September 18, 2016.
Stay tuned for more information here and via email.
---
Thank You Class of 1966!
For your recent (July, 2016) and very generous donation to our WHS Alumni Scholarship Foundation.
Link to Class of 1966 Facebook Page
---
---
WHS Alumni Scholarship Foundation, Inc Announces

Induction Ceremony
October 17, 2014
Many photos of the event are at this site: http://bit.ly/HOF-Event-Photos
You can scroll through the pictures or if you want to view a slideshow, click on the left of the three icons over on the right side under "184 photos".
An article appears on the WHS website: https://bit.ly/HOF-WHS-Website
An article appeared in the Journal-Sentinel on Saturday, October 18, 2014:
http://bit.ly/HOF-Journal-Sentinel
Michael Feldman inductee from '66 made a brief mention at the beginning of his national show on NPR/WPR on October 18, 2014 (just after the first minute of the audio)
http://bit.ly/HOF-Feldman-audiopage
then click on the Listen link beneath All the News...or click the following link to immediately begin hearing this segment
http://bit.ly/HOF-Feldman-audiosegment
Congratulations to All Inductees!!
2014 Class of Hall of Fame Inductees
Glen Barbaras '37
Michael Feldman '66
Christopher Paul Gardner '71
Alyce Gilbert '61
Marlin M. (Pat) Harder '40
Dr. John Klein '69
James (Jim) Kurtz '62
Mark Sain '77
David Seebach '69
Jeffrey M. Steren '69
Dr. Lynn M. Taussig '60
GO PURGOLDERS
---

Another Successful Alum...
Nikiya Harris '94
Nikiya was featured in the Point of View page in the March, 2014 issue of Milwaukee Magazine. She was interviewed by Barbara Miner. Nikiya was our featured speaker at last year's Annual Alumni Scholarship Social. Take a look and be proud of yet another successful alum from our excellent school!
<http://www.milwaukeemag.com/article/352014-NikiyaHarris>
---
Tom Laughlin, Class of 1949
Actor-writer-director Tom Laughlin, whose production and marketing of "Billy Jack" set a standard for breaking the rules on and off screen, has died. His obituary is at http://bit.ly/tom-laughlin
---
Mira Marquel Hamilton '91 inducted into the
University of Whitewater Athletic Hall of Fame
October 20, 2012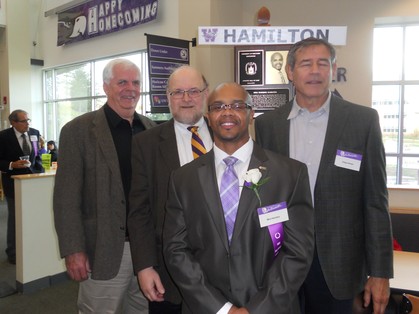 L to R:
Bob Nelson, former Principal at WHS
Joe Kmoch, one of Mira's computer teachers,
Mira Marquel Hamilton '91
Greg Lehman '68, Mira's track coach and teacher and also in the WHS Alumni Hall of Fame
Mira was one of many fine students at Washington HS and a member of the Computer Specialty Program. On matriculating to UW-Whitewater and joining the Track and Field Team, Mira qualified for every national chanpionship during his career, four indoor and four outdoor. He held UWW school records in the 55 meters indoors, and the 100 and 200 meters outdoors when he graduated. Mira won the 55 meters indoors and 100 outdoors at the WIAC Championship and qualified for both national meets again, racing to a third place in the 55 meters indoors at the NCAA Division III championship and winning the 100 meter dash at the '94 NCAA Division III outdoor meet. He earned All-America status three times during his career.
Since graduating from the University of Wisconsin-Whitewater in 1995 with a Bachelor's degree from the Management Computer Systems (MCS) program he has worked for several Information Technology concerns and most recently has taken a position as Service Monitoring Project Manager for the Washington DC Metropolitan Area Transit Authority. He has many accomplishments and even speaking engagements as a result of his work for WMATA.
During the time he worked in the Milwaukee area he served for several years on the WHS Advisory Board for the Computer Information Technology Academy as a valued member and resource. We congratulate Mira on his induction into the UWW Athletic Hall of Fame, thank him very much for his service back to Washington HS and wish him well in his future endeavors.
Another successful WHS Alumni! we are proud of!
BE PROUD, PURGOLDERS!
---
Have Memories you'd like to share?
Click on User Forums on the left, then on your decade
Write new memories or copy them from your profile.
---
The Future of Washington HS article click here
---
First time visitor? Click on "How To Use This Site", located on left.
---
Homepage hits: 212,732
ANNOUNCEMENTS
The 50th reunion for all classes of 1968 will be held on July 14, 2018. More information will be posted later but please keep the date open. Any questions contact: Janie Mazur Suesskind jsuesskind@att.net 414-332-3443 or Norm Behling nbehling@execpc.com 414-425-0014
SAVE THE DATE! JUNE 23, 2017 IS SET FOR OUR 50TH REUNION.
Please visit our class website at classreport.org Follow the prompts to Washington, Milwaukee, 1967.
Hope to see you there!
This was an old 1956 class listing for me. Please delete it from our
Norma Landers Bruss
List of Announcements:
Attention - Attention
-- Another WHS Alumni site seeking money
-- Reunion sites selling WHS Apparel
Subscribing to Profiles
---
ATTENTION! ATTENTION!
Through one of our committee members, we are aware of a different site calling themselves the WHS Alumni Site. The URL includes the name < Alumniclass.com >. This site is currently seeking funds for memberships. AlumniClass has earned a grade of F by the Better Business Bureau for not dealing with numerous consumer complaints. PLEASE DO NOT SEND THEM ANY FUNDS. None of this money comes to our official WHS Alumni Scholarship Foundation, Inc. We do not charge alumni any membership fees.
Classmates.com is another site you should avoid - they have been sued for illicit business practices, particularly for autorenewal of membership fees.
If you Google either of these sites along with the term "business practices" you will get further information.
Please avoid these sites! Thank you
Reunion Sites Selling WHS Apparel
There is at least one commercial reunion site which has for sale various items of WHS apparel and other kinds of WHS gifts. We are not associated in any way with any of these sites. No portion of the purchase price of any item on these sites is returned to the Washington HS Alumni Scholarship Foundation. We will be announcing shortly a WHS Alumni Store where we will sell caps, t-shirts, sweatshirts and other memorabilia.
Subscribing to Profiles
When you first register or later if you click on Profile Subscription you can choose to follow one or more of your classmates. When you select each individual classmate, you are subscribed to that person's profile and will receive a message when they update their profile.
There's a large button right below the selection boxes labeled "Subscribe to all Profiles". Don't click this button unless you want to be deluged by emails indicating someone (anyone) on the site has changed their profile.
If you are getting many emails about profile updates, click on Profile Subscriptions, then scroll down to the button marked "Unsubscribe from all Profiles" and click on it. That should stop those emails.
If you're still having problems, send a message via Contact Us.
Thanks